I haven't done this link up in a while, so I thought I'd join back in. I really believe that our focus needs to be on the non-scale victories. We really can't control what the scale says--we can do things that influence but, in the end, it is out of our hands. What we can control, however, is what we do off the scale.
My victory this week? Making it to Body Pump...on Wednesday. I hadn't been to Body Pump in
months
and I wrote on Monday about how proud I was that I went. Then,
Tuesday happened
and I was still upset about it on Wednesday. As I wrote in my post, I really didn't want to go to Body Pump on Wednesday morning--I just wanted to curl up in a ball and feel sorry for myself. But, somehow, I got myself (and the kids) to the gym and, really, it made all the difference. Sometimes, you just need a little endorphin release!
So, what were your Non-Scale victories for the week? Link up and tell us all about them!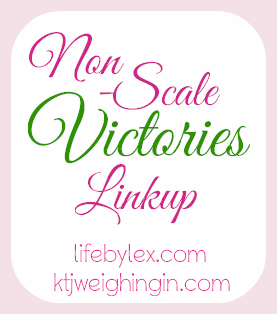 Okay, in OTHER news....I'm afraid my son might be coming down with something. He hasn't been himself (which means he'd probably be a perfect angel for the music teacher! Ha!) and he has a borderline fever. Most worrisome is that he's not eating, which usually means there is some tummy upset going on--and we all know what tummy upset can lead to!
I am trying a new recipe in the crock pot for dinner tonight....Applesauce BBQ Chicken. If it turns out, I'll post the link (I'd post it now, but I can't find it at the moment!). I really do hope it turns out because I prepped 3 batches of it and 2 of them are still in the freezer! I try to crock pot meals at least twice a week--on Tuesdays and Thursdays as my daughter has swim lessons those afternoons (but we aren't at the pool today thanks to my little guy's malaise), so I'm always on the search for new slow cooker recipes--but more on that later! Hint, hint!
I'm hoping to do my C25K W3D3 workout outside either tomorrow or during the weekend. Normally, I have guitar lessons on Friday nights, but my latest psoriasis breakout has put those on hiatus. At first, it was just too painful to play guitar. Then, I started treating it with the steroid cream--which works, but thins the skin so now I draw blood when I try to play! Ugh! I'm hopefully that I'll be able to go off the meds after the weekend and then I'll be able to practice again.
Sigh...so that is life in my little corner of the world!